The inspiration:
A large painting with an ornate gold frame. The picture came from my mother's house and I love its size and the colors. And, as my decorating budget is non-existent, I take what I can get. Thanks mom! When we rearranged the house this summer (I will post details on this spur of the moment project later), I decided to hang the picture in the new dining room. It looked good, if just a tad stuffy, with the other art in the room. Then it hit me, what if I replaced the painting in the frame with a chalkboard? Hence the Formal Chalkboard.

Here is the before shot of the picture with its beautiful and large gold frame.
I wish I had some pictures of the process, but alas, the pictures I took only exist in my memory, not the memories of my camera or computer. So, here is a written description.
Can be found at a hardware store and is pretty inexpensive. I spent $6 and had leftovers for another project
I did not prime my chalkboard, but I would if doing the project again as the hardboard is pretty slick.
I used Plaid brand acrylic chalkboard paint.
Calcium carbonate chalk is best because it is less abrasive and won't scratch up your new board.
Foam brush
Cut the hardboard to fit your frame. Jason did this for me; I like to make him feel useful. Some hardware stores will also cut boards down to size as well.

Prime the hardboard.

Paint the hardboard with chalkboard paint, being careful to follow all manufactures directions on drying times and curing time. It will probably take at least an hour for the paint to dry between coats and 24 hours for the paint to cure before use.

Lightly rub chalk (remember the calcium carbonate part) all over the chalkboard and then wipe clean.
Securing Chalkboard in the Frame
:
Use a small nail to secure the chalkboard in your frame. I hammered the nail into the frame at an angle. I did not hammer through the hardboard.
Instead, I just bent the nail down to hold the chalkboard in place. Repeat around all 4 sides of your frame.
And here it is! One beautiful formal chalkboard for my new dining room. I am usually not too original in my craft ideas. I read different blogs and magazines, and I window shop for inspiration. This one came to me out of the air, however, I did see a similar chalkboard in the December issue of Country Living Magazine after my moment of genius. I guess I will chalk it up to creative minds thinking alike!
If you like this chalkboard idea, would you please pin it? Thanks, Christy
I linked up at:
thriftydecorchick.com
.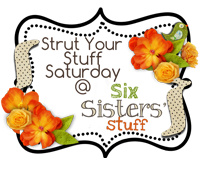 Sundae Scoop Link Party