6 Can Soup
( or 3 can, or 9 can depending on how big your crowd is) comes from my mom's recipe box. It is the quickest easiest, yummiest not quite from scratch soup ever! Mom would make this on family ski trips because it was hot, satisfying and simple to pull together even after a day on the slopes. Everyone loved the soup, except me. You see I am a Ntomataphobe. I looked this up, it is a real phobia. I DETEST tomatoes! The orginal recipe calls for 2 cans of Rotel, so I have always had to pick through the soup for uncontaminated bites. I know, I'm and adult and should get over it, but well, I just can't! Tomato sauce, salsa, ketchup, all fine, so when I saw a can of Rotel Zesty Tomato and Green Chili Sauce on the shelf at Target, I had to try it. I like this pureed version of Rotel so well I can't wait to try it in other recipes like chili, queso, and Santa Fe Chicken. Any other suggestions? Give this recipe a try next time you need a quick easy meal. It is simple but will garner yums and seconds please!
6 Can Soup (recipe is easily halved or doubled as needed)
Ingredients:
2 cans Minestrone Soup
2 cans Ranch Style Beans
2 cans Rotel or Rotel sauce
1 lbs ground beef (could use ground turkey or ground chicken or you can go meatless)
1 small onion, diced (optional)
Here's what you do:
Brown the ground beef in a large pot (a 5 quart dutch oven would work great).
Drain fat from the pan.
Open all 6 cans and pour into the pot. Do not drain the beans.
Heat and Serve!
I linked this recipe to:
Sundae Scoop Link Party at I Heart Nap Time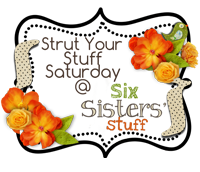 "/>